Happy Holidays Sign
We needed something to cover the top of our garage since it seemed a little bare. So, I ordered a Happy Holidays wireframe sign earlier this year from Christmas Done Bright. I had them make the letters 2 feet high instead of the standard 1 foot (they can do anything!). Once the wireframe arrived, I started dreaming up ideas of how to light it. Well, I went overboard and decided to make each letter to be controlled individually and to light up in 2 colors (red and green). Since there are 13 letters, it would take 26 channels to control.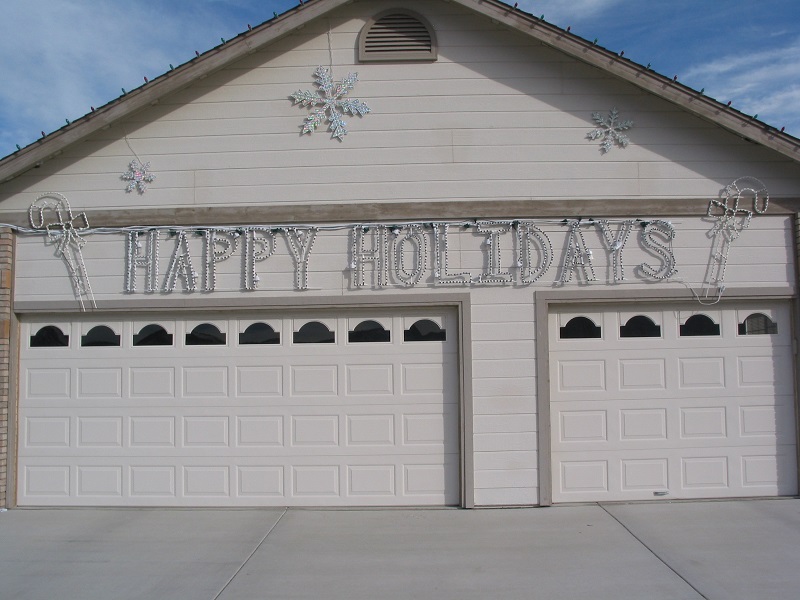 So, I started off taping one string of red onto the wireframe. It took a long time and I still had to go back and do the green string. Ugg! I found that it was much faster to do both colors at the same time. This was still a very time consuming process that ended up taking 2 months to complete (not solidly working on it). In addition to the lights, I added strobes to make it sparkle. The extension cords were home made by getting SPT-2 wire and connectors from Action Lighting.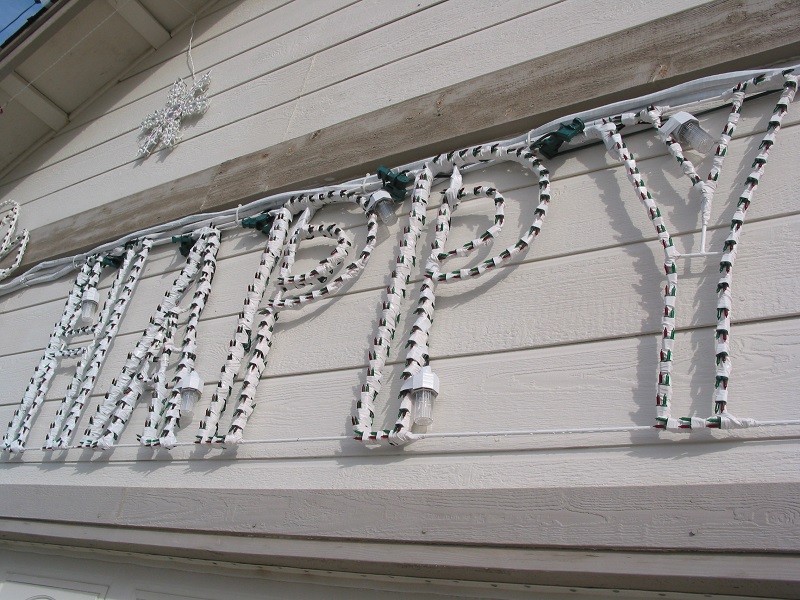 The sign is broken down into 3 separate sections (HAPPY, HOLI, and DAYS). I wired each separately (except for the strobe string) so that it could be put up and taken down separately. The extension cords were all tied up together using white electrical tape. I think I went through 18 rolls of electrical tape. After the lights were put on, the sign sections got pretty heavy (the extension cords did too). I screwed in hooks into the studs on the front of the house (they held throughout the season with 70+ mph winds and rain).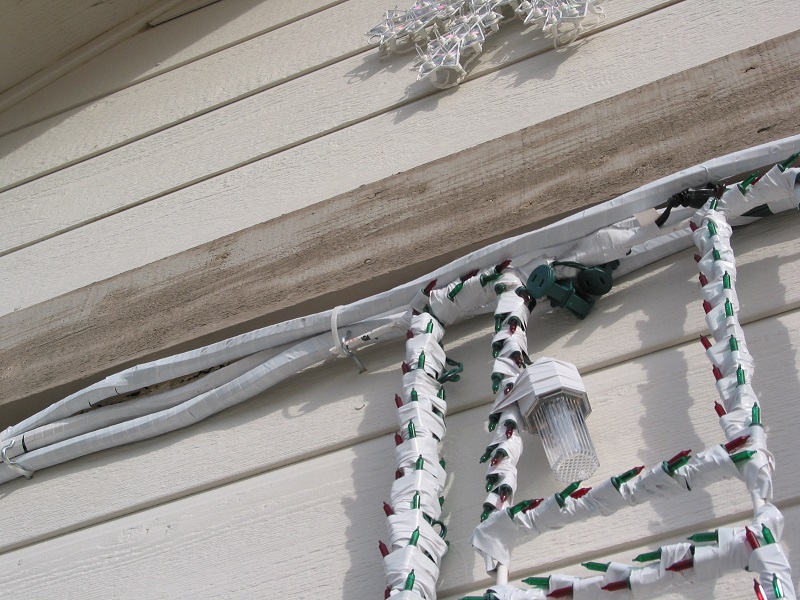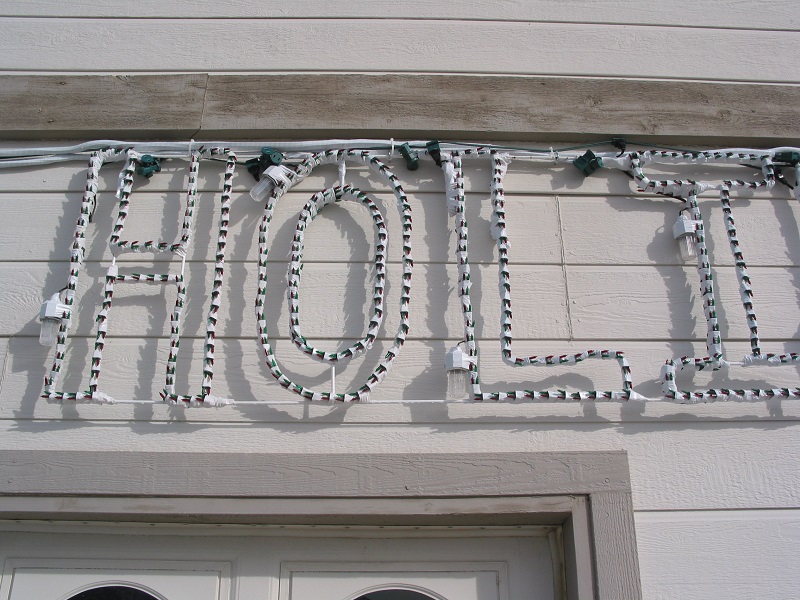 I also added 2 candy canes on each side of the sign (2 more channels). So, 2 additional controllers were made and added to the side of the house.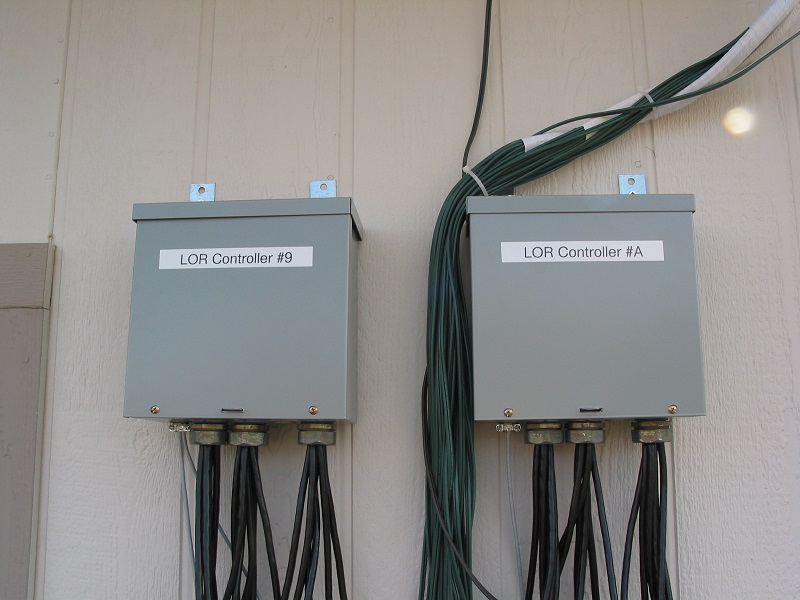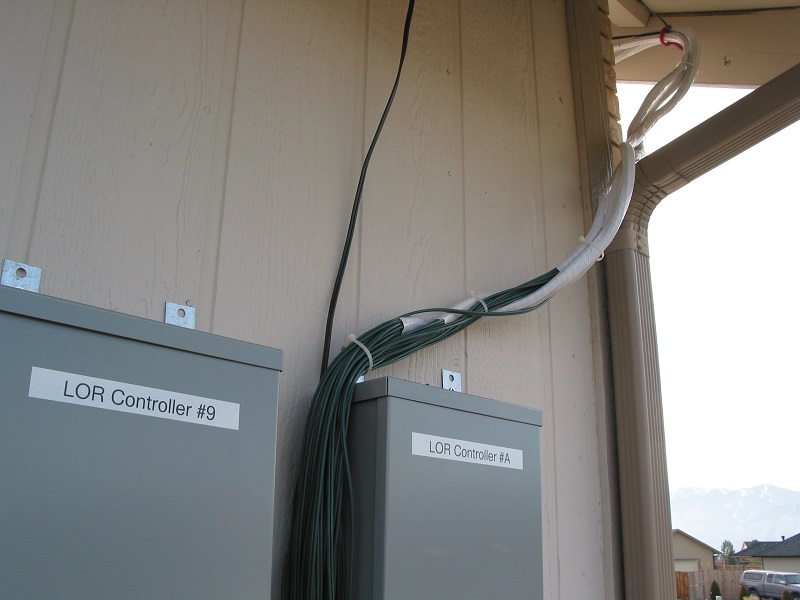 The end result was great! The red and green colors really make the sign dance around. What I was surprised about the most was that when the red and green lights lit up at the same time, they would turn the sign white. So, I really had 3 colors to work with! I'm glad I added this sign. The sign almost competes with the Megatree.