Welcome to Nevada Christmas!
Hello all Nevada Christmas fans,

Let's start this off by saying that 2017 was the LAST year for our display.  I think I just heard a bunch of hearts stop momentarily and many cry out "Noooo!!!".  Sad to say, it is true.

Rather than just saying we are done and leaving it at that, I figured it would be fair to let you know why this decision was made.  Prior to Christmas, we had big plans to add new songs and features that were just downright cool.  On New Year's Eve, I reflected back on the past years display and where we wanted to take the display in the future.  As much as I wanted to carry on and make the display bigger and better than ever, I realized it had problems that were not good for myself, neighbors, and family.

There are 2 main reasons why the display had to end, which I'll detail below:

The Overgrown Cul-De-Sac
Our Cul-De-Sac was never the best venue for our display.  It was difficult to park without blocking a driveway or entrance/exit of the cul-de-sac itself.  Despite putting out multiple announcements not to block entrance and exits, people blocked them anyway…and it became grid-locked.  Grid-locked so much that people literally drove over sidewalks and on to the landscaping of our neighbor's front yards!  On one side of the street, they took out a portion of my neighbor's tree…and on the other, they ran over their rocks and boulders in their front yard.  Cars pulled into neighbor's driveways to park or turn around leaving tire marks on their property.  When someone wanted a better spot to watch the show, they pulled closer and blocked others view…which caused those people to honk their horn.  Some would turn their radio up very loud.  This was annoying and stressful to hear through the night as I knew if I heard it, my neighbors could too.  Additionally, I would have go out each night and clean up trash and cigarette butts that were left behind.  That is when I realized that despite whatever announcements we made on what not to do, we can't control what people actually do.

Time Commitment
It's no secret that our display takes a big amount of time and money to setup, but you may be surprised to find that it takes months to create new features, sequence new songs and maintain the existing props.  We would dream up plans early in the year and start making them a reality in June through November.  Once our display was setup in late November and through late December, we would have to be at the house before 5:30 PM.  We did this to move traffic as neighbors were getting home and couldn't get into their driveways.  Put it all together and it becomes a major time commitment to be home for 4 months of the year.  Throughout the holiday season (October to December), I would have to send the family off on their own for any vacations or nighttime events.  We would be setting it up during Thanksgiving and through the weekend.  I would take vacations to work on the display.  After the year was over, we would take down the display and head back to work.  Sadly, while everyone was relaxing during the holidays, it felt like I was running a 4-month marathon.  Don't get me wrong, I enjoyed creating and running the display as a hobby, but it was getting in the way of family and not being able to enjoy downtime during the holidays.
We have been running the display since 2001 (16 years!) and I don't regret it, but it is time for us to close the display.  I would like to see our closing as an opportunity for others to take the reins.  The display will be sold off (preferably to a business or city) that can run the display for all to enjoy with ample space.  If not to a business/city, then it will get sold off to individuals.

I want to thank our neighbors for putting up with our display and the traffic/noise it generated over the years.  They have supported us and worked with us on every issue that arose. 

The thing that bothers me the most, is closing it down for those that donated food (5,012 lbs.) and cash/gift cards ($13,011) for our charities.  Those that had the kindest things to say to us when we were passing out candy canes.  Those who danced in the street with the lights.  And those who looked forward to our display every year and made us part of their Christmas tradition.

You are the ones that made it all worth doing.  Thank you for the memories and the one heck of a ride!

Nevada Christmas
The Kremer Family
Nevada Christmas is on Facebook for updates and behind-the-scene photos and videos! Become a fan of Nevada Christmas on Facebook today!
Current weather at Nevada Christmas:
Greetings from the Kremer family!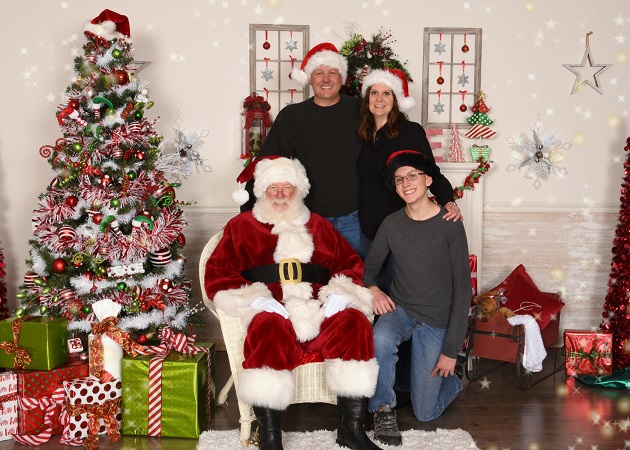 Donations
| | | | | |
| --- | --- | --- | --- | --- |
| Year | Charity | Food | Gift Cards | Cash/Checks |
| 2017 | Carson Valley 20-30 Club | | | $1362.53 |
| 2016 | Austin's House | 136 pounds | $289.35 | $2264.24 |
| 2014 | Make-A-Wish | | | $1091.42 |
| 2013 | Pay It Forward | | | N/A |
| 2012 | Carson Valley Food Closet | | | $1588.40 |
| 2010 | Carson Valley Food Closet / Backpack Buddies | 439 pounds | | $1014.40 |
| 2009 | Carson Valley Food Closet / Rebecca Martin | 470 pounds | | $2698.30 |
| 2008 | Carson Valley Food Closet | 846 pounds | | $754.30 |
| 2006 | Carson Valley Food Closet / Rios Children | 1140 pounds | | $1904.90 |
| 2005 | Carson Valley Food Closet | 1541 pounds | | $43.00 |
| 2004 | Carson Valley Food Closet | 440 pounds | | N/A |



Thank you for so much for supporting your community!